This is part 6 of a series of posts from David Francis' Transformational Class: Transformational Church Goes to Sunday School . Click here for a free download of the book, as well as training materials to help you present the material to your leaders.
This excerpt is adapted from Chapter 3, "Relational Intentionality," pages 20-24.
Transformational Churches had a process in mind for making disciples. They also had it in their hearts that it is people who demonstrate the fruit of that process. As in most churches, there are many types of groups. In the TCs, the groups were all "on purpose." And they were primarily focused on individual people. The researchers chose Relational Intentionality to describe this dynamic.
Five Typical Groups
The intentional disciple-making processes adopted by churches typically include five categories of groups. Some group them together as options for a single step in what they communicate to members. And the sequence has shifted over the years (a whole book could be dedicated to that discussion!). I'll try to briefly capture what I've observed in Southern Baptist churches in the following table.
Open Groups: A Proven Step-Two Strategy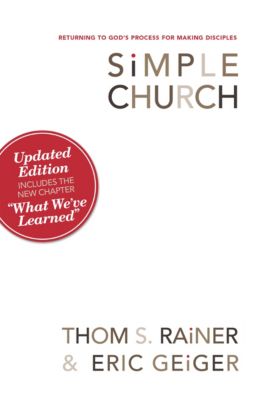 After Simple Church was published, I became curious about whether "simple churches" were actually employing some type of open group—whether they called it Sunday School, Life Groups, Connect Groups, or whatever—as their step-two strategy. With Dr. Rainer's encouragement, I partnered with his coauthor Eric Geiger to conduct an analysis of the 400 Southern Baptist churches identified as "vibrant" in Phase 1 of Simple Church research. This sampling of churches was chosen because each had grown by at least five percent for three consecutive years, a hurdle that clearly separated these churches from the comparison group. With the list of these churches in hand, I was able to obtain information on the Sunday morning schedules of 376 of the 400 churches. The results: 87.5 percent operated Sunday School—or its functional equivalent—as their step-two strategy. (The other 12.5 percent utilized off-campus small groups or a mixture of off-campus and on-campus groups, at least for adults.) About half called it Sunday School, but whatever it was called, it operated as an on-campus Bible study experience adjacent in the schedule to the primary weekend worship experience (step-one in the disciple-making process of most churches).
Not everyone has the space or parking to do Sunday School on campus. Some people don't want to call it Sunday School, and that's okay too. The point is that open groups practicing open enrollment (see last week's blog post) are a dominant characteristic of vibrant churches.
Am I suggesting that all the TCs were also "simple churches" or that they all operated Sunday School as part of their process? Absolutely not. What I am suggesting is that the TC findings were not inconsistent with these earlier findings. So I'll continue to proclaim that "Open Groups for Step Two" is a proven option in an intentional disciple-making process for most churches that aspire to be transformational and simple.
After all, what could be simpler? Accomplishing the first two steps of your disciple-making process with every member of the family on one trip to the church.
Safety in Social Space
In his book The Search to Belong, Joe Myers elaborates on four spaces where people belong: public, social, personal, and intimate. Public space is what you experience in a football stadium, with lots of other people you may or may not know unified by your support for the same team. One of my favorite social spaces is Panera Bread®, where I like to write. I recognize and exchange greetings with several other regulars there, although I would not describe them as friends. Personal space is for friends—people I enjoy being around, regardless of how long it's been since I was last around them! Intimate space is reserved for those really close, accountable relationships, notably with a spouse or perhaps even what teens might call a "best friend forever!"
I found Myers' book extremely helpful. In essence, his appeal to church leaders is to let people belong progressively and simultaneously in any of the spaces rather than equating "intimacy" with spiritual maturity and/or promising it as an expected outcome of small group experiences. For me his candid perspectives triggered one of the most liberating insights I've ever had:
Open groups meeting on the church campus are successful as a safe step two strategy precisely because they operate in social space!
By trying to keep up with the promises of the small group movement, I had become defensive about Sunday School on this front. But not anymore! I'm comfortable with the reality that while a Sunday School class may provide an environment where a person might discover one or more close friendships, those relationships will be developed outside that environment. In fact, an attempt to use that environment to develop personal relationships may violate the open group principle on which Sunday School is built. Classes must remain open to be missionaries.
David Francis is Director of Sunday School at LifeWay Christian Resources. Before joining LifeWay in 1997, he served as minister of education at First Baptist Church in Garland, Texas. David and his wife, Vickie, love teaching preschool Sunday School and are helping start a new adult class in their church in Hendersonville, Tennessee.