Fair trade coffee. The "End It Now" campaign. Racial reconciliation. Protecting the planet. The spoken gospel. Hunger. Disease. Poverty. Sex trafficking. The list could go on and on. One of the most difficult parts of being involved in areas of responsibility is getting past the intimidating nature of the problems of the world. If you step back and look, there are literally thousands of "causes" to be involved in. It's almost paralyzing. Given the breadth of options, how do you guide your group to change the world?
Start with awareness. There is a tendency for people to have tunnel vision. We become isolated within our section of the world and only look long enough to say, "That's really too bad." The first step is just bringing a sense of awareness to your group. You might encourage them to watch the news for one week, asking God to move them about one particular story they see. Or consider taking a field trip one evening to spend some time prayer-walking in your town. Or you might print off some statistics regarding poverty in the world or in your community.
 Develop a plan. After your group has an increased level of awareness, make a plan together. Let the group lead out in the areas of interest in the plan, but you provide some guidance to the structure in order to make sure you are balanced in your approach. For example, you or your group might choose to support one entity internationally, one nationally, and one locally through prayer, volunteerism, and finances.
Incorporate, incorporate, incorporate. Missional living by its very definition is not something you do for a night and then don't do again until next week. Responsibility needs to flow into everything you do together. Take time during Bible study to bring up issues of social significance. Pray together regularly for those areas of justice and mercy you are supporting. Make your mission a part of every time you meet together, rather than just devoting one week a year to a mission trip.
Don't do everything, but do something. Bring some focus to your efforts. You don't have to do everything, but you need to do something. And that something can change. But if you limit your focus some, you can really invest heavily in certain areas of ministry.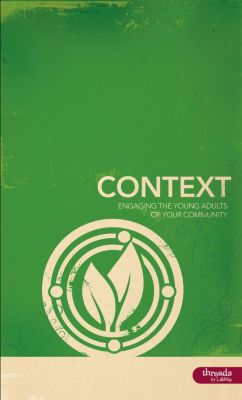 Excerpt from Context: Engaging the Young Adults of Your Community,  (Nashville: LifeWay Press, 2009), 44. This resource is available as a FREE ebook download. Click here to get the book!