BY MICHAEL KELLEY
When you start to drift, fight the current, and get back to Jesus.
"We must, therefore, pay even more attention to what we have heard, so that we will not drift away" (Hebrews 2:1).
I don't spend a lot of time on boats, but whenever I find myself on the water, I'm always a little amazed at the power of the current. It's one of those forces that's always there, no matter how still and pristine a body of water might seem, still churning and moving below the surface.
Imagine with me that you're on a boat on one of those clear, warm, early summer days. The clouds are few, and the wind is even less, so you cruise out to the middle of the lake on what seems like a sheet of glass. You shut down the motor of the boat right in the middle with the intent of letting the kids swim for a while. For the next hour or so, you toss one another off the boat, practice cannonballs, and have a snack. But inevitably, you have to restart and reposition the boat because even though you turned off the motor in the middle, you look up and notice that you're closer to one side of shore than you were an hour before.
Why? It's because you've drifted. You didn't mean to move; you had no intention of changing your position. You stopped fighting the current; you stopped paying attention. Because there are constant currents, you're always moving whether you realize it or not. When you're out on the lake, unless you choose to take an active effort against doing so, you're going to drift.
Imperceptible Drifting
Drifting is something that happens over time. It's slow and steady, almost imperceptible. It can happen so gradually, in fact, that it goes without notice. That's the real problem with drifting spiritually — you don't know it's happening until it's already happened.
That's actually true in all areas of life. Drifting is bound to happen unintentionally.
You might mean to cut down your spending this year but unintentionally, you're going to drift from that vision.
You might want to eat less sugar this year, but unless you pay attention, you'll drift from your goals.
You might intend to read more and watch TV less, but unless you take active measures to do so, you'll drift.
When you do nothing, you drift despite all the good intentions, grandiose claims, or resolute statements. You are always going to drift. And you know what else? No one drifts toward Jesus.
Intentional Direction
No one ever did nothing and woke up closer to Jesus the next day than the day before. We drift away from Him; not toward. If we want to move toward Jesus, then it's going to take an active stance against the current that's always moving us farther and farther out. That's why the writer of Hebrews tells us to do something simple and yet profound at the same time:
"Pay even more attention …" (Hebrews 2:1).
When you pay even more attention, you're living with the awareness of the ever-present tendency to drift. You know that unless, today, you actively fight against it, the drift will happen. You must choose to pray. You must choose to read. You must choose to memorize. You must choose even to believe. In doing all of these simple things, you're taking an active stance against the impending spiritual drift.
Pay attention, because if you're not paying active attention, you're going to drift. And if you drift, it's always going to be away from Jesus, not toward Him. •
Michael Kelley, M.Div., and his wife, Jana, have three children. He's the executive editor of HomeLife and the Director of Discipleship at Lifeway Christian Resources. His works include his latest release, Boring, Wednesdays Were Pretty Normal, and Transformational Discipleship. Keep up with Michael on his blog at michaelkelleyministries.com or on Twitter @_MichaelKelley.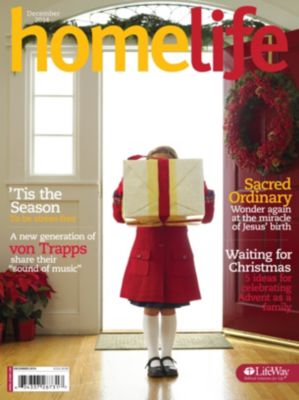 This article originally appeared in the July, 2014 issue of HomeLife. Subscribe